If you're searching for "tire repair near me" in Middletown, Odessa, or Dover, DE, look no further than the Winner Volkswagen Service Center located right here in Dover! Our staff of experienced technicians is here to serve you with a suite of tire services you can count on, from tire rotations and balances to introducing you to a new or discount tire set that will support your vehicle for many years to come.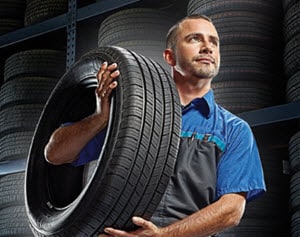 Taking care of your tires is a crucial aspect of being a car owner and ensuring the safety of you and your fellow travelers. Still, how can you tell when your tires need TLC?
Signs Your Car Needs Tire Repair
When it's time for an oil change: Many service centers perform oil changes and tire rotations together, since both are typically needed around the same time. When your car is due for an oil change, you know it's time for a tire rotation and balance as well.
Shallow tread depth: Tread correlates with traction and new tires with fresh tread are needed for hazardous road conditions. But, as you add miles onto your car, tread wears down and can get to a point where it becomes dangerously low. Insert a penny into the tread. Can you still see the top of Lincoln's head? If so, it's time for a new set.
Age: Age is not just a number when it comes to your tires. At five years old, they'll need a thorough inspection and at ten, they're deemed ready to replace. To check a tire's age, read the last two numbers of the string of digits on the tire's sidewall. 
Get More Tire Facts or Schedule an Appointment
Throughout all of the journeys your car goes through, bumpy and smooth, your tires are along for the ride. Maintaining and replacing your tires with timeliness is important! 
For more tried and true tips about tire upkeep, check out links to other helpful tire care information on this page. Also, learn more about new and discount tires available to drivers in Middletown, Odessa, and Dover, DE! Then, when it comes time to schedule an appointment for tire repair, trust the certified technicians at Winner Volkswagen to get the job done right.