A vehicle can only go so long before it needs to come back in for a little bit of upkeep, including your 2018 Volkswagen Tiguan. Generally speaking, your car needs to be serviced about every 10,000 miles. We at Winner Volkswagen have put together this brief Volkswagen Tiguan maintenance schedule for those living in Middletown, Odessa, and Dover to better understand when and how often they need to have their vehicles serviced.
Your Volkswagen Tiguan Service Schedule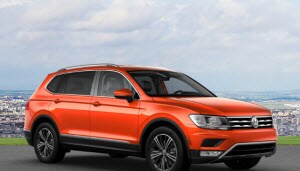 In this Volkswagen Tiguan maintenance schedule, we'll guide you through what will happen at each of your essential mileage-interval service appointments. We hope this will give you a better understanding of not only what your car needs in order to stay as reliable as you need it to be, but also what you can expect each time you take it in for these important service appointments.
Every 10,000 Miles
Who knows where your first 10,000 miles in your Volkswagen Tiguan is going to take you? There are many adventures to be had in a vehicle like this one. However, every 10,000 miles, you will need to have a service appointment to make sure things are in tip-top shape. The services in this section will be checked at every 10,000-mile interval.
Several fluids in your vehicle will need to be checked, replaced and/or topped off including:
Engine oil (checked and topped off)

Windshield wiper fluid (checked and topped off)

Headlight cleaning fluid (checked and topped off)
Your airbag system will need to be visually checked and all four of your tires will need to be rotated. The brake pads will also need to be tested for their thickness and condition. If they're too thin or in poor condition, they will need to be replaced.
Lastly, before you leave the lot after each mileage interval service appointment, a technician will reset the service reminder light. This light serves as a simple reminder of the next time you will need to have your car serviced.
20,000 Miles
In addition to the service check-ups you need every 10,000 miles you drive your Volkswagen Tiguan, you will need a few extra services and inspections done at 20,000 miles. Your dust and pollen filter is replaced at this service appointment.
Your tires will also not only be rotated, but inspected and tested for their wear pattern and tread depth. This determines if the tires you have are safe or if you need new ones. This is just one of the safety checks made of your vehicle during this service appointment.
30,000 Miles
Your 30,000-mile service appointment will be by the book. Unless you're experiencing a specific problem, technicians will perform the basic services you need every 10,000 miles and you will be on your way.
40,000 Miles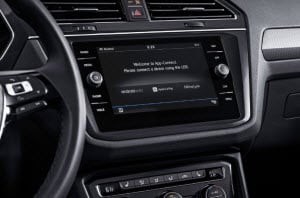 Contrary to your 30,000-mile service appointment, your 40,000-mileage interval service appointment is quite possibly the most important service appointment your Volkswagen Tiguan will receive. In addition to the basic check-ups that are standard for each 10,000-mile checkup, the following parts of your vehicle will be inspected:
Body (checked for corrosion)

CV joints (checked for damage or leaks)

All inside and outside lights

Power outlets, horn, and cigarette lighter

Tie rod ends and tie rod end boots
Once these inspections and any resulting repairs have been made, the hinges of the doors as well as the locks will be lubricated to prevent rust and sticking. The cabin air filter and automatic transmission filter(s) will be replaced. Your transmission will also receive a fluid change. After all of this is completed, your vehicle will be taken for a road test to ensure all parts are running correctly.
Volkswagen Tiguan Maintenance Schedule  - Questions?
If you find yourself asking any questions relating to your Volkswagen Tiguan's maintenance schedule or about anything in this guide, contact us at Winner Volkswagen. We want nothing more than for our Volkswagen Tiguan owners in Middletown, Odessa, and Dover to be as happy and satisfied with their investment as possible.
If it's almost time for your vehicle's next mileage interval service appointment, we're happy to help you schedule that appointment over the phone or through our easy-to-use service scheduler online.